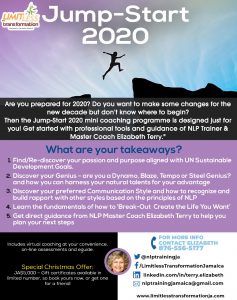 As we race down to the end of 2019, many are wondering what 2020 will hold for them. Are you one of those managers or leaders who is considering some changes for the new decade? Perhaps the last year has been particularly stressful and you know that the time has come to do something different, but you are not sure exactly what and how to get there?
With so much information available, and so many gurus suggesting the right path for you, it's no wonder you feel confused! What if you could have an experienced coach guide you based on your unique passions, talents and strengths, not what they want to sell you?
The Jump Start 2020 mini coaching programme is designed specifically to answer your need. It will get you started in the right direction with assessment tools and the professional guidance of NLP Master Coach Elizabeth Terry.
What are your take-aways?
Find/Re-discover your passion and purpose aligned with UN Sustainable Development Goals
Discover your Genius – are you a Dynamo, Blaze, Tempo or Steel Genius? – and how you can harness your natural talents for your advantage
Uncover your preferred Communication Style and how to recognize and build rapport with other styles based on the principles of NLP
Learn the fundamentals of how to 'Break-Out – Create the Life You Want'
Get direct guidance for NLP Master Coach Elizabeth Terry in 2 sessions
Special Christmas Offer:
JA$5,000 – gift certificates available
Limited number available, so book yours now or gift a friend in need!